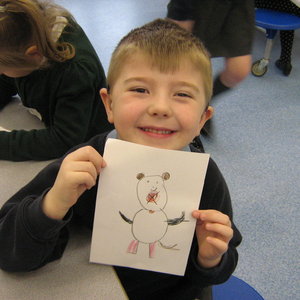 6 March 2017
In March this year, we were joined by our friends from Ingol Community Primary School. We talked about rhymes and what they were and we looked at a rhyming story.
The children then created a story board for our own story that would include rhymes. They even illustrated the story. As usual, we finished off our morning with a well-deserved biscuit and some juice before receiving a certificate in celebration of the morning.
Well done to the children who took part:
Rainbow Class: Emily, Zoha, Max, Jamaar, Emma, Finlay, Layla and Tegan.
Moonbeam Class: Darcy, Nicole W., Brooke, Alan, Reegan, Alijca and Kayleigh.
Sunshine Class: Kyle, Dylan, Ellie and Nevaeh.
Ingol Community Infants: Lewis, Leo, Fatima, Isabell, Hayley, Ebony, Logan, Michael, Zain and Urte.
My Amazing Junior Helpers: Ruby, Keelie, Ella, Gabriel, Wojciech and Oliwier.
The book that the children created is available to look at in the infant department (if you can hunt it down!) and (hopefully) you will see a copy on the website too!
Rhyme Time - Infant Cluster Event March 2017